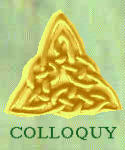 In the Spirit of Collegial Inquiry...
Food for Thought
Karl Popper
ShuffleBrain: articles by Paul Pietsch, Ph.D.
A Compendium of Logical Fallacies
Project Renaissance with Win Wenger Ph.D.
Jessica Utts: statistics in parapsychology
Frank Tipler: The Physics of Immortality
Vietnamese American Society view with IE.
Dr Amanda Maravelia: Astronomy in Ancient Egypt
P.R. Schwob's Classical MIDI Archives
Mme Jacquet de La Guerre: her music
Brad Leissa's classical music pages
US Geological Survey: Earth Sciences Information
Resource Links on Mind, Intelligence, and Intellectual Societies
Current Theories on Ability Measurement
High-Level Intelligence, History, ... and More!
Online Psychological Tests for Self-Awareness
This page maintained by Julia Cybele Cachia, Regent of Colloquy
Return to Colloquy main page