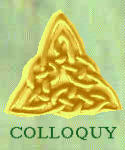 In the Spirit of Collegial Inquiry...
Resources on Educational Testing
Miller Analogies Test, from the publisher
Educational Resources Information Center: Assessment and Evaluation
Institute for Personality and Ability Testing
R.B. Cattell's Culture-Fair Tests may be obtained here by qualified psychologists.
IPAT also distributes the Cattell 16PF, one of the most highly-regarded measures of personality structure.
Resource Links on Mind, Intelligence, and Intellectual Societies
Current Theories on Ability Measurement
High-Level Intelligence, History, ... and More!
Online Psychological Tests for Self-Awareness
This page maintained by Julia Cybele Cachia, Regent of Colloquy
Return to Colloquy main page