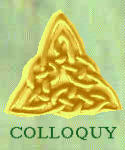 In the Spirit of Collegial Inquiry...
Online Psychological Tests for Self-Awareness
Personality test by forms and colors
Keirsey Temperament Sorter: official site
Keirsey Temperament Sorter: original site
Ansir for One personality test
Sandra Bem: Sex Role Inventory
Body-Mind Queendom ...a treasury of tests and resources
An Online IQ Test, just for fun. ...valeat cum grano salis!
Another Online Test from Europe enjoy!
Thoth Test by Nik Lygeros extremely difficult!
Resource Links on Mind, Intelligence, and Intellectual Societies
Current Theories on Ability Measurement
High-Level Intelligence, History, ... and More!
This page maintained by Julia Cybele Cachia, Regent of Colloquy
Return to Colloquy main page