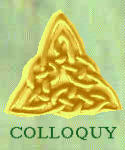 In the Spirit of Collegial Inquiry...
High-Level Intelligence, History, ... and More!
Uncommonly Difficult IQ Tests, by Darryl Miyaguchi
Bill Bultas' Chimera site: tests and games!
C.M. Langan: On the Meaning and Utility of IEQ
Julia C. Cachia: Why are Standard Tests Preferable?
Ulf Norlinger: ...The Greatest Geniuses
David Slater: William Sidis... the greatest mind?
Intelligence and Brain Myelination
Cor van Dusschoten's IQ-related links
National Association for Gifted Chilren
Wyman's Geniusweb biographical links
Resource Links on Mind, Intelligence, and Intellectual Societies
Current Theories on Ability Measurement
Online Psychological Tests for Self-Awareness
This page maintained by Julia Cybele Cachia, Regent of Colloquy
Return to Colloquy main page