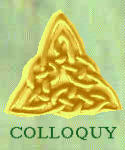 In the Spirit of Collegial Inquiry...
Becoming a Colloquy Member
If your intellectual abilities place you above the 99.5 percentile on any of these tests, you are invited to provide that information, your name, preferred e-mail address, and optional homepage URL. A clear photocopy of the original score report will be sufficient in nearly all instances. Obviously it must identify you, the test(s) administered, and the approximate test date. The mailing address is:
Mike Hess, 5 River Road, Box 201, Wilton, CT 06897-4097
Please do not send originals; the copy will be retained in confidence and not returned. Additional scores are welcome, qualifying or not, and would be helpful in improving our statistical data on test equivalence. The parallel requirement for qualification is your introduction to the group through submission of a brief personal sketch (a template below) via e-mail to Mike. If your homepage already presents a suitable introduction, it would suffice to provide the URL in lieu of this personal sketch. We particularly enjoy having members representing a wide array of nations, cultures, ethnic backgrounds, unusual fields of study, and certainly the voices of women should be more numerous in our forum!
Your application to Colloquy implies a commitment to polite discussion; a pledge to maintain cordial discussion of any topic. Members hold a discreet veto on admissions, primarily to deter the few who have achieved minor notoriety in disruptive behaviors. Colloquy particularly seeks the knowledgeable, creative, expressive, and benevolent people designing wonderful sites on the Internet. Upon acceptance, membership in Colloquy is yours so long as you wish it! You may participate vigorously, go on sabbatical at times, play the lurker, whatever. Of course, a certain willingness to initiate and respond is the source of worthwhile experience.
What would you share about yourself in sixty to one hundred twenty words? Add or delete headings as you like, informal in style. A personal web page URL would always be welcome too! If your homepage covers nearly the same ground as the requested personal sketch, then the URL alone would suffice. By the way, participation on the e-mail list is optional. It is fun, though construction of a grand network of intellectually fine web pages is an effort of more enduring value. It is my regret that I have not had sufficient time to format web pages of the most recent discussions. At least the existing pages offer a fair cross-section of topics we have perennially enjoyed.
---
name:
city & nationality:
year of birth:
education:
vocation:
avocations:
favorite topics:
my uniqueness is... :
---
- - confidential section below - -
my preferred e-mail address*
test name and scores submitted:
date mailed:
questions or comments:
---
* Occasionally the daily mail volume can exceed a dozen posts when a particularly enticing topic is under discussion. It may be rather undesirable to receive these on an account used at work, of course. The important matter is that your posts to the list match the address at which you receive mail from the list. If this could pose a problem, I recommend that you obtain a free e-mail account at one of the many servers which offer this. Popular choices include CEOexpress and Hotmail.
---