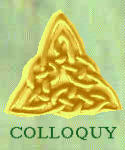 In the Spirit of Collegial Inquiry...
Colloquy:
Personal Sketches of Thirty Additional Colloquians
continued
---
Jon: (JI) age: 43 residence: Huntington Beach, California, USA comments: I had looked up "colloquy" in the dictionary and learned that it meant a formal or polite dialogue or discourse. Reading your sample dialogues on earlier topics (e.g., the "Angst of Genius", etc.), I definitely detect an atmosphere of intellectual civility all too often missing from some of the other societies. I am a member of Mensa and have been a member of Intertel...
I know that what was posted was only an introductory sample, but I sense that this sampling does indeed set the tone for the sort of high-IQ society that emphasizes "heart and mind" and possesses an atmosphere of safe civility that is becoming increasingly rare in our American society at large, and even in the discourses of high-IQ societies... Therefore it is such a refreshing feeling to find out that there are still people out there who value intellectual endeavors and respect such activities for what they are. an interesting topic: Is higher education becoming corrupted by the need to make research commercializable?
---
Joe: (JTD) year of birth: 1931 education: B.A., US Naval Academy; J.D., Western State U vocation: lawyer avocations: reading, writing, travel favorite topics: finance, law, travel
---
Tony: (TC) year of birth: 1964 Education: Some college (UC Berkeley) Why I Joined Colloquy: I was attracted by Julia's thoughts-wonderfully expressed- and her gentle spirit. Interests: Music-Coltrane, Davis, Beethoven, Schubert, Copeland, Mussorgsky, Borodin, Monk, Bill Evans, Dizzy Gillespie, Gershwin, Bernstein, Ozawa, Sarah Vaughan, Hilton Ruiz, Mary Lou Williams, Chick Corea, Herbie Hancock, Debussy, Percy Granger, Persichetti, Kenny Barron, Mark Levine, Marcus Roberts, Susan Muscarella, Ed Kelly ... Other Interests: Physics (I know nothing), Biology (I know less) Future Interests: Theory of Novels and Plays, Linguistics, The Brain Hobbies: I am trying to play music after years of inactivity. I play clarinet, self-taught (ie, not very good) on flute and piano. Would love to learn cello. Using the dictionary. Currently reading (9/99): Prometheus Bound-Aeschylus; Life of Galileo - Brecht Future Reading List: books by Ray Kurzweil and Roger Penrose
---
Ed: (EWH) birth: England, 1958 City & Nationality: Mission Viejo, CA USA Vocation: field service engineer for a medical electronics company Marital Status divorced with 1 child Avocations: reading, watching quality TV and films, speculative investing, and Mensa Interests: Human Evolution, Astronomy (especially Cosmology), Future Studies, Computer Science, Geopolitics, Economics, Foreign Languages, and World History.
---
Jeff (J2K) birth: Philadelphia, 1960 residence: oil company vagabond lived in PA, ME, TX, CA, and CT before landing in Mexico City. education: parochial schools, which explains the 10, 11, and 12 inch markings on back of hands, all the way through Houston's University of St. Thomas. Recently returned to a spiritual life, after many years away. avocations: include music from classical to alternative, reading (mostly mainstream, but will gladly accept recommendations!), web programming, soccer (English variety), and motorcycles. family: Off-beat, sentimental, happy, haggard, and moderately sane father of four beautiful kids and husband to one great woman who puts up with me.
---
Brian: (BHK) birth: 1971 residence: Los Angeles, CA, USA education: B.S. 1995, M.S. 1999 (pending) in Meteorology Vocation: gradual, oops, I mean graduate student, and eventual atmospheric scientist focused along a yet unknown career path. I will proceed to the Ph.D for the upcoming Fall. avocations: end corporate welfare, reform the political election process and the way special interests and politicians feed off of each other, make the government invest more in our environment (biosphere, oceans, and atmosphere), more money for education, science, and the arts, exercise freedoms of choice and free speech, and stem the tide of ultra right-wing religious ideals into our popular culture. favorite topics: varies from time to time, but at the moment, it mostly relates to my field of study or whatever books I'm reading at the moment.
---
Yuri's photo (YuM) Born: November 10, 1967, Moscow, USSR (now Russia). Emigrated in 1990, just as the country was blowing up all around and whatever left of KGB was on my case (seriously!). Descent: My father was a son of a Russian peasant (who went on to become a renowned stage actor) and a Polish Jew (her family came to Russia just before the Revolution). My mother's father was an editor in the national Communist newspaper (kicked out at some point, but spared and later even reinstated - a mystery considering the prevailing attitudes of the time); her mother was an heir to an old (dating back to Peter the Great), but very poor Tatar noble family, something like a Baroness (until 1917, that is; I've heard, though, that I now qualify to be a member of the Noble Assembly back in Russia - titles are in fashion again). Quite a mix - which, I believe, is partly responsible for how I turned out. Education: Moscow Physics and Engineering Institute, B.S. Theoretical Physics; Charter Oak State College (Newington, CT), B.S. Math. Residence: I live in Framingham, MA (about 20 miles west of Boston) with my family. Vocations: manager in a software company and a father of a 2-year-old. Avocations: My family, my job, jazz, trivia of all sorts, science and methodology, languages and etymology, human intelligence and IQ, education for gifted children and bilingual education. My mind is filled with wonderful useless bits of information that have a tendency to pop out from time to time (hey, we're using only 5% of the brain anyway - why not store junk in the other 95?). If I had all the time and the money in the world, I would travel everywhere and play/listen to jazz at the same time B-) Other High IQ memberships: Mensa, TNS
---
Arvo: (AHH) birth:1957 Vocations: I have been a trial attorney for seven and a half years -- specializing primarily in the criminal defense of indigent clients as a contract public defender. Before that I was a merchant marine deck officer. Family: I am married to a college professor and we have two adopted "special needs" children, ages five and seven. Avocation: taking care of my family Hobbies: reading history and science fiction. I mess around with computers a lot -- both hardware and programming. Residence: Savannah, Georgia (USA), but was born near Portland, Oregon and lived there until I attended law school. Despite my unusual Finnish first name, I am a third or fourth generation American. Education: I have a Juris Doctor degree from the University of Georgia, a Master of Laws degree in Marine Law and Policy from the University of Wales in Great Britain, and a Bachelor of Science degree in Oceanography from Texas A & M University. I took so many extra courses for fun while I did my undergraduate degree that I am also about a semester's worth of work away from a Bachelor of Arts degree in History. I am licensed as a Master Mariner by the US Coast Guard for vessels of less than 1600 Gross Tons. I hold an unlimited tonnage Chief Officers license from the US Coast Guard, also. I have sailed around Europe, South America, the Caribbean, Mexico, the Great Lakes (of the US), and the East and West Coasts of the US (including Alaska).
---
Jerry: (JSB) birth:1953 Residence: Buffalo, NY, USA Vocation: I am a lawyer. How I ended up in the law is a long story, but those who know me well are mystified by that career choice. I am a partner in a very large law firm. I have always been a curiosity to my partners. I try to prove to them every day that thoughtfulness, gentleness, humor and persistence are more effective than aggression. So far, so good. Family: I am a husband and father. There is where my heart lies. One of my children has special needs and he is the primary focus of our attention at the moment. I see the universe in his eyes every day and wonder what he sees in mine. Comment: I am attracted to Colloquy because of the apparent spirit of the place. It would be refreshing indeed to have a place to share ideas for the sheer joy of it.
---
Bob: (RJB) City & Nationality: Ponte Vedra Beach, Florida; American DOB: September 1, 1982 Education: I am still in high school and plan to attend college next fall. Vocation: Programmer for Gleam Internet Technologies, which is an internet design company that I started with two friends in 1997. Philosophies: Eclecticism, Atheism, Epicureanism. Avocations: Building and programming robots, reading, listening to mp3s, some golf and tennis. Interests: Physics, Artificial Intelligence, Cognitive Science, Mathematics, Genetics.
---
Mike: (MH) City: Cincinnati, Ohio, USA Nationality: German, born in Yugoslavia 1951 ... German first language until age 5 when I started kindergarten in Chicago and learned English. Education: B.S. (Honors), Loyola University of Chicago, psychology; M.A., Columbia University, experimental psychology; M.B.A., Wharton, market research/marketing Vocation: market research executive, specialize in advertising research and test marketing; marketing mix modelling ... speaker, Advertising Research Foundation conferences ... editorial review board for new handbook on supermarket scanner data ... member, Advisory Board, U of Texas at Austin Masters in Market Research Program ... articles in Marketing News, July '99 and Jan '00 Avocations: contract bridge ( have played professionally; current rank: silver life master), frequent contributor to Cincinnati Bridge Assoc. web page; often play on Net at www.okbridge.com ... languages: fluent in German; competent in Spanish ... teaching: have taught/tutored numerous subjects including on-the-road driving, statistics, test marketing, German, psychology, contract bridge ... completed Cincinnati Marathon (1999) as a walker. Favorite topics: philosophy of science, especially relationship between western science and eastern philosophy; separate interest in Zen; consider Thomas Aquinas a strong influence as to "method" in integrating disparate truths, therefore fascinated by current emphasis on unitive theories in many fields including bio-psychology and cosmology/physics; like the brilliance of Shakespeare's language and characterization; newly revived interest in human factors/performance due to encounter with High IQ groups ... Finally, I'm a long time die-hard Cub fan and so the numbers 1984, 1989, 1998 have special meaning to me (playoff years, but not World Series)
---
Martin: (MJZ) Born: 1967 Vocations: I am an associate publisher of three business-to-business technology newsletters. I have also worked in hospital administration. Family: Married with four children Avocations: Reading - history, science (especially astronomy and physics) and science fiction; running and playing with computers (at home for fun and at work to eliminate as much drudgery as possible!) Residence: Erie, Pennsylvania, USA Education: BA in Political Science and MBA with concentration in finance Topics of Interest: computers, science and history Other Comments: I like to read 5 or 6 books at the same time. Like to learn new most new subjects/skills and will try to master them as quickly as possible.
---
Blaine: (BPH) Born: 1952, Cambridge, Ohio USA ... moved to Chicago at age six months; lived in Chicago and suburbs until 1981, then moved to North Carolina Vocation: PA on medical staff at a university medical center, in Medicine/Nephrology Education: BS degree at Roosevelt University, Chicago, 1974. PA-C from Wake Forest University School of Medicine, Winston-Salem, North Carolina, 1991 Avocations: reading, writing, music and art. Favorite topics: history, current events, science, and math Other Comments:I am a runner. For spectator sports, I like ACC basketball and baseball.
---
Donald: (DES) Born: 1943 City/Nationality: St. Louis, Missouri, USA Education: M.A. Philosophy, UI Chicago, Ed. Sp. Counseling, SIUE Vocation: Telemarketing Service Representative Avocation:Trying to start several online businesses Favorite Topics: Metaphysics My uniqueness is: Five published philosophy articles, one of them good
---
Olivier (OCG) Born: 1975 Residence:New York City Education:Yale University alum, majored in Political Science / International Relations. I believe in fate and have an odd academic fascination with witches, angels, and demons. My special talent lies in the realm of logic as well as efficiency.
---
Don: (DAM) City & Nationality: Niagara Falls, USA Year of Birth:1968 Education: B.S. Mechanical Engineering, B.S. Aerospace Engineering, University of Buffalo Vocation: Mechanical/Project Engineer Avocations: My Wife & Son, Religion (Christian) Other Interests: reading, chess, music (a little bit of everything from classical to jazz to rock, to new age ... currently big on the blues), playing guitar (not very well but I enjoy it), computers/Internet, sports, travel, fantasy football, Mensa Favorite Topics: religion, adoption, history, politics, current affairs (domestic and foreign), Russian/Soviet history & studies, military & veteran issues, science fiction/fantasy Outlook: The most important things in life are: God and my Wife & Son. Everything else is superfluous.
---
Robert: (RFA) City: Richmond, Virginia USA Year of birth: 1949 Education: B.A. (UNC-Chapel Hill, 1971), M.A.., Ph.D. (Brown, 1974, 1977) Vocation: Stock broker Avocations: Music, reading, languages, cooking, travel Favorite topics: People's motivations and their language patterns, which usually tell more than they know My uniqueness: I have been a happily married suburbanite with a lovely wife, 3 children, 2 Volvos, and a golden retriever (no kidding) and am now divorced and happily partnered with an architect whom my children love. It's been an interesting journey!
---
Stephen: (SCC) City/State: Hattiesburg, Mississippi, USA - a rather quiet, comfortable college town. Birth year: 1959 Education: Bachelor of Science in Business Administration, Chapman University, Orange, California; Juris Doctor, University of Mississippi, Oxford, Mississippi. Vocation: Attorney with the Division of Child Support Enforcement, State of Mississippi. I engage in the aggressive pursuit of deadbeat parents wherever they may be. It is my belief that the interest in obtaining justice for the minor child must outweigh the interest of the absent parent. As Plato said, "Justice is but the interest of the stronger." Avocation: I enjoy reading, taking walks, and watching a good movie now and then. My favorite movie genres are mystery, comedy, and science fiction. Favorite Topics: Law, Biology, Sherlock Holmes, J.R.R. Tolkien, Mythology, and the Middle Ages. About me: I am single and do not have any children. Favorite Link Site: ceoexpress.com
---
Jacques: (JQ) City/Nationality: Paris, France Birth year: 1963 Education: I was educated at a so-called « grande école », the Ecole Normale Supérieure, and graduated with an « agrégation » in literature. Vocation: I presently teach in a university near Paris, which I enjoy not so much for the job itself as for the comparatively ample leisure time it leaves me with, considering there is nothing I enjoy to such an extent as plainly doing nothing (beautifully-named in Italian farniente) - call it contemplation or Taoism if you wish to make it sound more acceptable -. Oh yes : humour and irony are also part of the deal. Afraid it doesn't show much here. Well, I guess I'll have to practise my English - or my humour ; possibly both. Waiting to hear from you all Colloquians, if that's the name we should be called.
---
Karl: (KGL) City: Fort Collins, Colorado, USA. I was born in Texas, and have lived in six different states. I also lived in Finland for two months as an exchange student. I have been to 44 US states and Puerto Rico, three Canadian provinces, four Mexican states, Denmark, Finland, Sweden, Germany, France, England, Spain, Barbados and Cuba. Alas, most of this was in my youth. I have not been out of the country in 14 years. Year of Birth: 1959. Education: I graduated in 1980 from the United States Coast Guard Academy with a BS in Mathematical and Computer Sciences. I also earned an MS in Systems Management from the University of Southern California in 1988. Vocation: I am a Computer Systems Analyst working for the United States Department of Agriculture. Avocation: I enjoy sailing and try to do it every weekend during the warmer months. I am also enjoy photography, mead making, amateur radio, aviation and model railroading. Family: I am happily married to my first wife. I have three children, two sons and a daughter.
---
Vasileios: (VGk) City/Nationality: Athens / Greek Birth-year: 1974 Education: Graduate Student (Economics) Avocation: Graduate Studies & Teaching / Research Assistant to the University Favorite Topics: Economics; Mathematics; Theoretical Physics, especially in the fields of Relativity and Quantum Mechanics; Greek and French Poetry My uniqueness is: Combination of mathematical and philosophical thinking Comments: I entered the Graduate Program of Economics in the Athens University of Economics and Business (Master's Degree) in 1998 / 99 and I have completed all the necessary courses. According to the overall G.P.A. of the two academic semesters I finished top of the class (valedictorian) and am currently working on a paper concerning Economic Business Cycles. I am also a research and teaching assistant to the department of informatics of the Athens University of Economics and Business, currently applying for admission to the Ph.D. program in Economics of European (mainly English) Universities.
---
Wyman (JWB) city & nationality: Fond du Lac, Wisconsin USA education: BA, MA, ABD Philosophy vocation: college instructor avocations: playing music, skiing, stock market favorite topics: psychology; neuroscience; theories of intelligence; theories of personal and intellectual growth; reviews of various products of the human mind that attempt to be objective and informative (rather than binary and defensive); jokes; simply being in a network of active minds who make others aware of new information. Suggestion: I urge others to begin attempting to verbalize their own thoughts as objectively as possible for at least an hour per day (not necessarily all at once.) Keep an eye toward merely recording what one is thinking (at first.) There are various positive results of this habit that will soon become obvious.
---
John: (JBR) I was born 13 Dec 1942. Where, and where I grew up, is of secondary importance, as I was an Army brat. I consider myself largely self-educated. Have been a computer programmer/systems developer since 1965 running the gamut from big iron thru minis, then mostly PCs since 1980. Am in the process of becoming a professional, scholarly, family/local historian. I am a generalist and an intellectual - interested in everything, especially the principles by which things work and exist. My highest talent is for intellectual synthesis: integrating models across disparate fields and verbalizing them. Probably my greatest fascination is with the process by which I, and others, do this.
---
Victor: (VL) &nbsp city & nationality: St. Paul, MN (originally Maine and Mass.) USA &nbsp year of birth: 1963 &nbsp education: BA (Music) Yale Univ., MD and PhD (Biochemistry and Molecular Biology) Univ. of Mass. &nbsp vocation: Resident Physician in General Surgery, Post-Doc Research in Molecular Mechanisms of Gram-Negative Bacterial Sepsis &nbsp avocations: Piano, Chamber Music (playing as well as listening), Reading, Travel, Gourmet Cooking, Chasing Lost Golf Balls, Boston Red Sox (aargh) &nbsp favorite topics: Science outside my area, Politics (particularly international and health care policy), Contemporary serious art, music
---
Norm: (WNM) City/Nationality: Matthews, North Carolina USA Birth-year: 1943 Education: Penn State-- Mathematics, Appalachian State-- MBA Vocation: Banking (auditing, risk/controls analyst) Avocations: Watching college soccer, educational TV, travel, Classical/Romantic period music, any special on Africa Favorite Topics: Wildlife, Anthropology and Archeology of Africa; Roman & Greek history My uniqueness is: Four other high IQ societies, four professional audit designations, two others in accounting and financial management pending. Unfortunately I am totally, completely and unabashedly politically incorrect for the type of yuppie work I'm now in. (really blue-collar at heart I guess) I was a Peace Corps Volunteer in Nigeria, West Africa during the mid-late 60's where I received my REAL education and life experiences. That, and the fact that I celebrated 10 years of sobriety Jan. 5, 2000 were my life's greatest accomplishments. Have also lived/worked in the West Indies after Peace Corps.
---
Alex F.: (PAF) City/Nationality: Münster, Germany. Birth-year: 1978. Education: I received my Abitur (German Highschool diploma) in 1998, and now I am a student at the university of Münster. Avocations: Reading is among my favourite hobbies, and there's not much I would reject, I read everything from novels to poems to science books to comics. I love music as well and even try to play some guitar, though it might be fair to stress it's a try ... Other hobbies of mine are cycling, games of all kinds and my PC.
---
Brian: (BNM) residence: Connecticut, USA year of birth: 1954 education: Bachelor (B.G.S.) from University of Connecticut (history/philosophy), A.S. (criminal justice), several graduate courses (theology/philosophy) vocation: Police Officer (Det. Lieut.) in a suburban P.D., part-time faculty at a local community college (social sciences) avocations: husband/father, reading (various, mostly non-fiction), high school track coach, distance runner, Macintosh computer aficionado, photography favorite topics: philosophy/religion (I'm NO expert, however), current affairs, history, human behavior observation: We all share a common, fundamental human nature, while each of us has a unique material form. I am reticent (usually) and conservative by nature, but intellectually curious. Many highly intelligent people seem enamored with various forms of materialism that sometimes results in a descent into narcissism rather than an ascent toward enlightenment. This is troubling, yet fascinating to behold.
---
Roberto: (RAF) City/Nationality: São Paulo, Brazil Birth year: 1970 Education: Systems Analyst - UNIMEP Vocation: Game Developer at Akwen Interactive Avocations: Reading books, chess, computer games, sports Favorite topics: Artificial intelligence in games, chess, software development My uniqueness is: good humor, creativity, and enthusiasm
---
Bill: (WEE) residence: Cambridge, Ohio USA Birth year: 1962 Education: BS in Mathematics Journeyman Inside Wireman Vocation: Maintenance Engineer Avocation: Motorcycling Favorite Topics: Spirituality, Humanism My uniqueness is: my beginner's mind in familiar things
---
Christopher (SeeWy) residence: Stockholm, Sweden Birth year: 1977 Education: Music (composition) Interests: My interests/passions change frequently. I aim for universality. Currently my focus is Science, especially math, and cosmology. I´ve also just started to learn about computer programming. Comments: I have been devoted to music for many years, but now I´ve realized that this is not my purpose in life. I´m searching for a new purpose, gravitating toward things concerned with thinking but I don´t know exactly what. All I know is that I want to avoid all sorts of limitation of my mind and strive for imagination. I want to learn about everything. This is a confusing state of mind to be in, but for me it seems unavoidable.
---
No e-mail addresses are given here, in support of privacy as well as the practical matter that most servers do not support mail relaying. We leave it to members to provide e-mail links and any additional personal info on their own pages. These listings are intended for member- to-member introduction ... and also to reveal something of the intellectual diversity of Colloquy. Biographical itroductions of the newer members can be found directly on the list archive pages

Group statistical profile